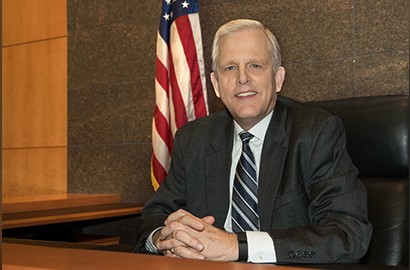 By Ken Withers
December 3, 2018
It is with deep sorrow that we announce the passing of our friend and colleague, U.S. Magistrate Judge Craig Shaffer of the District of Colorado, in the early hours of Saturday, December 1. He was 64. Judge Shaffer—"Craig" to everyone in The Sedona Conference—was a regular dialogue leader at Working Group 1 meetings and a member of the faculty of three Sedona Conference Institute programs.
Craig was diagnosed with glioblastoma, a form of brain cancer, in October 2017. At the time, he was working on an article on "discovery on discovery," growing out of his involvement in the spirited dialogue on The Sedona Principles, Third Edition, and in particular the revised commentary on Principle 6. True to form, from his hospital bed, he insisted on finishing the article in time for it to be published in the same edition as the Principles: Deconstructing "Discovery About Discovery," 19 Sedona Conf. J. 215 (2018).
This was not his first article on this topic for the Journal. In the fall of 2012, he published "Defensible" by What Standard?, 13 Sedona Conf. J. 217 (2012), and in 2015 he published The "Burdens" of Applying Proportionality, 16 Sedona Conf. J. 55 (2015). Craig was also an invaluable contributor to several Working Group Series publications, including the Commentary on Proportionality in Electronic Discovery (May 2017) and Commentary on Defense of Process (September 2016). He was one of the original signatories to the Cooperation Proclamation and served on The Sedona Conference Advisory Board since 2006.
Craig's passing has been met with sadness in the Sedona community. Ariana Tadler, co-chair emeritus of Working Group 1 said, "Craig left an indelible mark in the hearts of many. He also blessed us with his keen intellect and so many contributions to the law. I know that we all will miss him." Tom Allman, also co-chair emeritus of Working Group 1, added, "Craig was special indeed. And he made us feel special, too. His scholarship and common sense lives on."
Craig Weinlein, executive director of The Sedona Conference, lauded Judge Shaffer's contributions to the organization: "Craig was a very active judicial participant in The Sedona Conference and a true believer in its mission to move the law forward in a reasoned and just way. He contributed significantly to our work, and his valuable contributions always made our work product better. His passing is a loss to the Sedona community. He will be missed by all of us who were privileged to know him and had the great pleasure of working with him."
Beyond The Sedona Conference, Craig was well-known in the eDiscovery community as a frequent writer and lecturer, and as a member of the U.S. Judicial Conference's Advisory Committee on Civil Rules, appointed in October 2014. In 2007, he handed down a groundbreaking decision in Cache La Poudre Feed, LLC v. Land O' Lakes, Inc., 244 F.R.D. 614 (D. Colo. 2007), a trademark dispute in which he held that defendant's failures to follow up on key employees' preservation efforts and properly monitor the activities of its IT department were inadequate under Rule 26(g). More recently, he returned to that theme in Witt v. GC Services Limited Partnership, 307 F.R.D. 554 (D. Colo. 2014), sanctioning a party under Rule 26(g) for incomplete and evasive discovery responses. In Western Convenience Stores, Inc. v. Suncor Energy Inc., 2014 WL 1257762 (D. Colo. Mar. 27, 2014), Craig cited the Cooperation Proclamation in considering an award of costs incurred in responding to a Rule 45 subpoena. A strong advocate for thoughtful, strategic lawyering, he wrote in Stroup v. United Airlines, Inc., 2016 WL 7176717 (D. Colo. Sept. 16, 2016), that "[l]itigation decisions divorced from common sense have little or no strategic value. Similarly, a discovery dispute that does not materially promote the just, speedy, and inexpensive determination of pending litigation can best be described as a fight not worth having."
Craig was born in Key West, Fla., in 1954, graduated from the College of William and Mary in 1976 and went on to graduate magna cum laude from Tulane University School of Law in 1979, where he studied maritime law and was editor-in-chief of the Tulane Maritime Law Journal. He joined the Navy while still in law school, expecting to practice maritime law. But, as he quipped to Law Week Colorado, "I have never practiced maritime law a day in my life." Instead, he served as both prosecutor and defense in felony court martials, stationed in Naples, Italy, and later with the U.S. Court of Military Appeals.
After the Navy, he joined the U.S. Department of Justice, serving for five years in the Civil Rights division and three years in the Environment and Natural Resources Division, representing the Army, Air Force, and Department of Energy in Superfund litigation. In 1991 he went into private practice, with a concentration in environmental, criminal, and complex commercial law, first with the Denver firm of Dufford & Brown, and later as a partner with Moye, Giles, O'Keefe, Vermeire & Gorrell. In 2001, Craig was appointed to his first term as U.S. Magistrate Judge for the District of Colorado, and from 2003 to 2017 he served as adjunct professor for the University of Denver Sturm College of Law.
Craig leaves behind his wife, Kathleen Nalty, and their two sons, Ryan and Nick.
A celebration of Craig's life will be held Monday, December 17, at The Mile High Station, 2027 West Colfax, in Denver, with a reception at 4:30 p.m., followed by a memorial service at 5. In lieu of flowers, donations in his honor can be sent to the Denver Urban Debate League, a nonprofit supporting inner-city youth through speech and debate, located at the University of Denver Sturm College of Law.
Sean Broderick, who oversees the National Litigation Support team for the Federal Defenders office, recalled Craig's compassion and humor: "He was a very decent, funny, and insightful man. The first memory that comes to mind is of Craig laughing. I particularly enjoyed his stories about working with DOJ in Alabama on some pretty challenging cases years ago. Though it has been a couple of years since I saw Craig, he will be dearly missed."
Perhaps the most poignant tribute to Craig was offered by retired U.S. Magistrate Judge John Facciola of the District of Columbia, who said, "I still remember a wonderful day Craig and I had. He was in Annapolis visiting his family with his son. I was at the time working with a group called CRAB, which took disabled folks sailing in specially designed boats. Craig was an avid sailor. It was a soft summer day, and we took some disabled folks sailing on one of those boats. The Chesapeake Bay was as beautiful as it always is, and I still remember the smile on his face as we came about in a gentle breeze. When things got bad for him, I wrote him a note telling him that there will always be a seat on that boat for him. There always will be. It is a tradition to strike the main sheet for a sailor who has died. I will strike the main when spring comes and remember my dear friend. Fair winds and following seas, Craig."
# # #